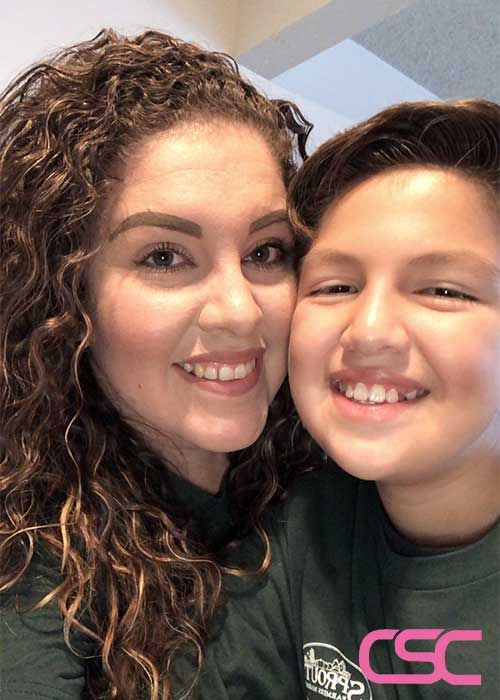 If you are considering becoming a surrogate mother, it is normal to wonder about the benefits, risks and experiences that other women have had before you. But many surrogates do not have someone else in their lives that has gone through the same process to discuss these things with. Reading true, successful surrogacy stories and hearing about someone else's hopes, fears and challenges (or lack thereof, hopefully,) first-hand can help reaffirm your decision and remind you why you decided to help someone start a family. We hope that current and future surrogates find comfort in reading this interview with real-life surrogate mother Erica M.
California Surrogacy Center: How long have you been a surrogate mother for California Surrogacy Center?
Erica M.: I applied to California Surrogacy Center in the Spring of 2019.
California Surrogacy Center: Was this your first experience as a surrogate mother?
Erica M.: I have had the privilege of being a surrogate mother three times and have given birth to three healthy beautiful babies. My first surrogacy [journey] was in 2010, followed by a sibling cycle for the same family in 2012, and my third surrogacy [journey] was in 2015.
I first learned of gestational surrogacy in 2009 when I was looking into egg donation. While learning more about the process, I realized egg donation was not something that I wanted to pursue. However, gestational surrogacy seemed to interest me quite a bit, so I pursued that.
California Surrogacy Center: What inspired you to become a surrogate mother?
Erica M.: While learning about gestational surrogacy, I really loved the idea that medical science could create life outside the womb and implant it into a woman's uterus to continue growing. Moreso, to know that so many people struggled with infertility, or not being able to have a child of their own for many reasons, truly touched my heart.
I am blessed to have an amazing son; the love we have for each other is infinite, and knowing that I could help someone create life and grow their baby would be the most rewarding experience that I would cherish forever. I would give someone the ability to have that infinite love with a son or daughter, as I do with my son.
California Surrogacy Center: Were you nervous about it? Why or why not? What helped you overcome this?
Erica M.: During my first experience as a surrogate mother in 2010, I was quite nervous and had lots of questions. The agency does an amazing job of explaining the process as you go; however, you won't know what to expect until it happens. So, that in itself can be quite intimidating.
I asked a lot of questions along the way, even the silliest questions were welcomed openly. From the application process up to the birth, there will be so many new things to learn, so asking questions and having a strong support system from family and friends made it easy for me. Having support from the agency throughout the entire process to answer all my questions helped me overcome the nervousness and fear and embrace the experience with joy and certainty.
California Surrogacy Center: Did you enjoy being a surrogate mother? What was your favorite part?
Erica M.: Yes, absolutely. I loved being a surrogate mother—so much that I did it three times. For myself, I love being pregnant; it makes me feel beautiful knowing that life is actively growing inside of my womb. I have so many amazing reasons as to why I loved this experience so much; I'll list a few.
I was able to do a sibling cycle for my first and second surrogacy. This means that I had a baby for the same family twice; two years apart. I formed such an amazing friendship with this family that 10 years later, we are still very close and have frequent contacts via email and occasional visits. They also wrote an illustrated children's book on our surrogacy journey, and that was an amazing gift not only for myself but also for my son and both of the beautiful babies, so they could understand the experience at a child's level.
Labor and delivery was equally amazing all three times, as bringing life into the world is such a joyful experience (minus the labor pains).
California Surrogacy Center: Why did you decide to work with California Surrogacy Center over other agencies?
Erica M.: There are so many surrogacy agencies in California that it could be overwhelming when trying to decide on what agency to apply to. The reasons I chose CSC? Their reviews were five stars; their website was so nicely designed and organized and quite informative that it made navigating very easy. Lastly, from the moment I completed their application online, I was contacted the next day and have had just the most amazing experience thus far. [The staff] is amazing and provides quick responses and is in constant communication with me to let me know updates. [They were] thorough and able to match me quickly. The doctors and psychologists they use are so professional and efficient; it provides peace of mind knowing you are working with an amazing agency.
California Surrogacy Center: Would you recommend working with California Surrogacy Center to other potential surrogate mothers or intended parents?
Erica M.: Yes, I highly recommend CSC to potential surrogates. You will have an amazing experience and work with respectful professionals who will guide you every step of the way. First-time or experienced surrogates will equally enjoy this agency very much.
California Surrogacy Center: Any last words of wisdom for other potential surrogate mothers out there?
Erica M.: Carrying someone else's baby is a huge responsibility, and with that comes so many new emotions. But always keeping your mind focused on why you chose to be a surrogate mother helps make this a joyful experience. Knowing that you are going to make a family complete, and bring so much everlasting love and happiness to someone is emotionally rewarding. A woman's body is miraculous in itself to be able to grow life and experience birth; and knowing that someone is going to have that infinite love, as you have for your own children, lights up your heart forever. Consider this a big step towards an amazing accomplishment. Be proud that you have chosen to be a surrogate mother.
Are you ready to have successful surrogacy stories of your own?
If Erica's story was inspiring to you, there's a good chance you would make a great surrogate mother. If you have reviewed all of California Surrogacy Center's surrogate qualifications and compensation information and you think you would be a good fit, we encourage you to complete online surrogate application by clicking on the button below. Provided you have your health history and a couple photos of yourself ready to go, the application should take about 20 minutes to complete.